Brenda Lee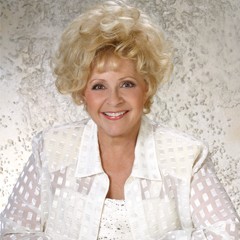 Singer Brenda Lee has been a superstar since childhood, releasing her first single when she was only 11 years old, performing at the Grand Ole Opry with Elvis Presley at 12, and watching The Beatles open for her before she turned 20. The award-winning vocalist has sold over 100 million albums and is beloved around the world for her classic hits "I'm Sorry" (which has sold over 20 million copies) and "Break It To Me Gently," while her "Rockin' Around The Christmas Tree" wins new fans every year. A member of the Rock and Roll Hall of Fame, The Country Music Hall of Fame and the Rockabilly Hall of Fame, Lee has been nominated for four Grammy Awards and has received both the prestigious Governor's Award and a Lifetime Achievement Grammy from the National Academy of Recording Arts and Sciences.
A musical prodigy, Lee began winning singing contests at age 6 and performed on a series of radio shows until Decca Records signed her to a contract in 1956. The next year, she hit the pop and country music charts with "Dynamite," earning the diminutive singer the lifelong nickname Little Miss Dynamite. She went on land a string of hits on the pop, country, R&B and easy listening charts, making her the top charting female artist of the '60s and winning countless awards including Billboard magazine's Top Female Vocalist and a place in Newsweek magazine's "Top 20 Artists Of the Past 20 Years" list in 1977. In 1984, The Governor of Tennessee declared a "Brenda Lee Day" and in 1990 a miniature yellow and pink rose was named the "Brenda Lee Rose" by The American Rose Society.
To date, Brenda has performed in 52 foreign countries and recorded hits in six different languages – English, Spanish, French, Italian, German and Japanese. She was on the Country Music Association's (CMA) Board of Directors for 8 years and is presently on the Board of Governors for the Nashville Chapter of the National Academy of Recording Arts and Science (NARAS).