Brian Hyland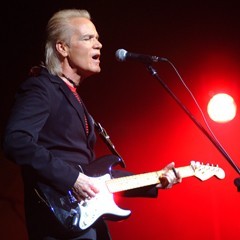 Vocally & artistically Brian is called "chameleonesque" for all his musical changes, having produced Hits for five different labels & successfully recorded everything from Novelty to Pop Ballads; to Folk Rock and Country Rock; to Pop Rock and Pop Soul, over more than a decade, but quite modestly having spent more than half of his life on the road and in the studio both writing and living his music, Brian feels he has just begun to Rock! In 1975, while on a tour of Indian Country in the Southwest with the Native American rock group XIT, he learned that ABC/Anchor Records in England had reissued his original recording of "Sealed With A Kiss" b/w "Ginny Come Lately," due to popular demand, and it surprised everyone by becoming a hit again, thirteen years later, the second time around!..going to #7 in England as well as charting again in Europe.
In the late seventies, with songwriting partner Rosmari, he turned his focus to writing and they spent a couple of years in New Orleans working with legendary writer/producer/artist, Allen Toussaint, which resulted in the album "In A State Of Bayou" on Private Stock Records, including three original songs. He later recorded a couple of original songs with help from members of The Band, Rick Danko and Garth Hudson at their Malibu studio, Shangri-La, and then joined Rick on one of his solo shows. In the early 1980's Brian's recording of "Ginny Come Lately" was included on the soundtrack album Lemon Popsicle 5 from the British movie Baby Love. The release in Germany of "Brian Hyland, Original Favorites" LP/CSS, was a partial collection of his Hit singles, however after twenty seven years Rhino Records released the first Brian Hyland Greatest Hits on LP/CSS in March of 1987. It includes fourteen of the twenty-two hot 100 chart singles Brian scored over an eleven year period from 1960 to 1971. Other releases include: an LP of Brian's Germann language recordings on Bear Family Records in Germany; a 16 track CD on Warners in Germany, "The Golden Gate Collection;" a CD3 on Old Gold Records in England; a CD3 on MCA Records in the U.S.; a 20 track CD "Let Me Belong To You," MCA Germany; a 27 track CD on Euro; "the Bashful Blond" in England; another English CD on Music Club; And available on CD in the U.S. and Canada, a release in May 1994 on MCA, "Brian Hyland, Greatest Hits" an 18 track CD including hits from all five labels!
While recording three duets for the album "Albert West and Friends" on Cherry Records & the Dutch charts, Brian performed on TV shows in Germany, Belgium and a Dutch TV special in Aruba. He also made two separate appearances on the U.S. TV show "Rock & Roll Palace" with Wolfman Jack; on Nashville Now, including a special from the Caymon Islands; and "The Daniel O'Donnel Show" in Dublin. He continues to tour around the U.S. and the world with songwriting partner Rosmari and their favorite rock drummer, son Bodi, performing classic Rock & Roll...New & Gold!
While continuing to write new music and record, they are also compiling material for a book about the long and winding Rock & Roll road. Among others, Brian has contributed original pen & ink art to the Rock Art Auction for AmFar; to the Rock & Roll Cookbook for the National Music Foundation; performed for the Special Olympics; recorded on annual Christmas Albums for Children's Hospitals nationwide and a song for "Rudolph The Red-Nosed Reindeer; The Movie."
In his Mac Music Studio, STONE BUFFALO TRAX Brian plays an acoustic Taylor guitar, a custom '68 Fender Telecaster, a custom "Vintage" '57 Fender Stratocaster, a custom Cort Bass, a Roland U20 keyboard/Synth, and Harmonica.