Comedians Dick Capri and Stewie Stone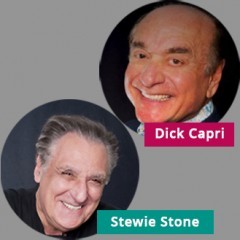 Dick Capri has taken the comedy world by storm and has left millions laughing in his comedic wake. In a career that has spanned two continents he has played every major entertainment medium including nightclubs, resorts, arenas, and theaters. Capri has even piled his trade on the Broadway stage and on national television. He has worked with such major stars as Tom Jones, Liza Minnelli, and Frank Sinatra.
Capri broke into international prominence in 1973 when he toured with Englebert Humperdinck. He honed his comedy craft performing at such venues as Radio City Music Hall and the Minskoff Theater in New York, as well as in major resorts in Las Vegas and the Palladium in London. While in England he also performed on a television special broadcast over the BBC
Capri made his Broadway debut in 1991 at the Lunt-Fontanne Theater, co-starring in the critically acclaimed Catskills On Broadway. The show played to sold-out houses for 14 months and later toured nationally, leaving audiences roaring with laughter night after night.
Capri had made several appearances on national television. He is part of Comedy Central's highest-rated special, the comedically acclaimed New York Friars Club Roast In Honor Of Drew Cary. He also has had the privilege of performing for Presidents Gerald Ford and George Bush.
When not touring or making television appearances, Dick Capri can often be found doing what he does best-making people laugh-at the top Hotels in Atlantic City, Vegas, Reno, Tahoe and more. Capri writes most of his own material, much of it based on his own experiences from his travels. His unique style features a measured and deliberate delivery and his material is crisp and topical. This mix of comedy sets him distinctly apart from traditional stand-up comedians.
Born Richard Crupi in Reading, Pennsylvania, Capri started his show business career, believe it or not, as a clerk in his father's grocery store-doing comedy mimes of the customers. When he ran out of characters there, he left the store to become a full-fledged impressionist and developed the unique comedic style that has become his trademark.
---
The humor of Stewie Stone is a refreshing bright spot in the ever-growing world of stand-up comedy. This comic genius handles jokes, one-liners, and anecdotes with a delivery that is dead-on and downright funny. His recent engagements on the road with such top celebrities as Paul Anka and Frankie Valli have cemented his career with an audience that hangs on his every word, gasping for air after his punch lines. From Las Vegas to the Catskills and from Carnegie Hall to Atlantic City Stewie is known world-wide as the traveling comic–he'll go anywhere to get a laugh–and laughs he gets.
Stewie first discovered comedy as a way to protect himself on the tough streets of Brooklyn, where he grew up. "I was a terrible introvert and real small for my age and I found if I could make the rest of the kids laugh, they wouldn't beat me up!" It was through Stewie's father, however, an ex-Vaudeville hoofer who ran the neighborhood dancing school, that he became mesmerized with the world of entertainment. It was the recitals, performing in front of audiences, and generating applause that became the foundation for his love of performing. But it was neither as a comic nor as a dancer that Stewie made his show biz bow–it was as a drummer. He started his professional career while attending Brooklyn College where he gave up academics for music, "I realized I'd rather play drums for a living than cram for finals, so I gave up school."
Eventually he discovered the comic within and Stewie became an instant hit in the legendary Catskills where comedy ruled–he then took his humor on the road. Over the course of his outrageously funny career, along with Anka and Valli, Stewie has opened for Frankie Avalon, Dionne Warwick, Ben Vereen, and Bobby Vinton, to name a few. The dynamic Shirley Bassey calls upon Stewie to open for her whenever she tours the states. His recent appearances at the Mirage and MGM Grand, in Las Vegas, and The Mohegan Sun, in Connecticut, have solidified Stewie's reputation as a sure-fire hit in any venue he plays.
A former Scribe and Prior (VP) of the legendary Friars Club, Stewie has garnered critical acclaim for his appearances at Friars Roasts as well as for producing and emceeing their hugely successful Friars Frolics. He appeared on the PBS program Treasures of New York: Friars Club.