Elvis Tribute Artists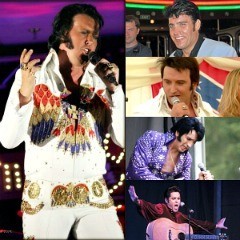 Gordon Davis: Gordon was crowned, Images of the King World Champion in Memphis Tennessee. He also won the European Championships establishing himself as one of the top Elvis Tribute Artists in the world with an international fan base. This will be Gordon's first time performing on the Malt Shop Cruise and we are thrilled he will be joining our fantastic lineup.
James Gibb: Relive the excitement and raw energy of Elvis in the fifties withaward-winning Elvis Tribute Artist - James Gibb from Harrow, Ontario, Canada.From the famous sneer and flashy clothes to the wild dance moves, James recreates the magic of Elvis in his early years. Since starting out in 2006 James has gone on to win 1st place in many competitions,the most recent being 1st Place Early Years Division at the SaginawKing Fest 2012 as well as being named overall "King of Saginaw". James is also veryproud of his 2011 Pro Early Years Grand Champion title at the Collingwood Elvis Festival.
Gino Monopoli hails from Toronto, Canada. He is an internationally acclaimed Elvis Tribute Artist with a large following. His love, admiration, and respect for Elvis shines through in every performance. Gino has performed on all of our Malt Shop Cruises. He is a passenger favorite, many of our cruisers look forward to seeing him return every year. His shows are high energy, electrifying, and they leave the audience wanting more.
Anthony Shore: Whether backed by his All Star Band or appearing solo, Anthony Shore never fails to impress, and entertain as he performs the songs of Elvis with exceptional quality and utmost respect. His incomparable vocal ability, charismatic stage presence, and approachable demeanor makes him an instant favorite with audiences. Originally from the UK, and a lifelong fan of Elvis, Anthony now resides in Minneapolis and works year-round preforming in a variety of venues. As an international, and award winning Elvis tribute artist, Anthony Shore manages to maintain a faithful following of fans, while continually attracting new ones.
Jay Zanier: Jay is a successful entertainer, and world class Elvis Tribute Artist who has won almost every award. Residing in Guelph Ontario, Canada, Jay has dedicated many hours to studying Elvis' music and taped concert performances. Jay has won numerous contests in Canada and the U.S.A., marking him as one of the top Elvis performers in North America.