Hail Hail to Rock 'n' Roll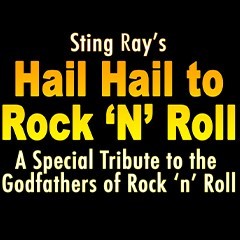 Capturing the pure raw nostalgia of Rock N Roll music. Back to the Bobby Socks and poodle skirts as only this show does. A bevy of talent takes the stage with hit after hit guaranteed to please all!
Starting with a Tribute to the Latin Rocker Ritchie Valens, Sting Ray Anthony also takes you back to the early influences of where it all began with a blast of high energy to get the party started.
Next let's talk about the man in the dark shades with the velvet voice.
A spot on reminiscent to the music of Roy Orbison takes us to stylings like no other. He not only captures the mannerisms but the velvet voice you're used to hearing. From Ooby Dooby to Pretty Woman, Crying, Blue Bayou, Only the Lonely.
Last but certainly not least, Darrell Croy, a skilled musician in his own right takes control of the stage with his blistering Tribute to The Killer himself Jerry Lee Lewis. Pumping the piano like The Killer did when he started the whole Rockin Piano craze.
(No stools or Piano left unturned!)
Rounding Hail Hail To Rock N Roll the cast all join together in a rousing Tribute to The God Father of The Rock n Roll guitar the one and only Chuck Berry leaving our audience wanting more….
Solid Rock 'N' Roll music you can't deny!