Lou Christie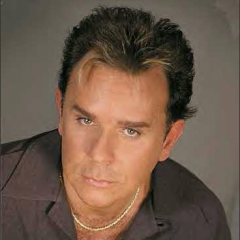 Lou Christie's chart topping, multimillion selling career as a songwriter, recording artist, and performer started in a two-track studio in Glenwillard Pennsylvania, his rural hometown near Pittsburgh. Lou's first million selling song, THE GYPSY CRIED, transformed a local choirboy, Lugee Alfredo Giovanni Sacco, into LOU CHRISTIE, national teen idol, while still a teenager himself.

Over the entire decade of the 60's LOU followed success with greater success. TWO FACES HAVE I was his next big hit featuring his stratospheric falsetto. LOU forever embedded himself and his uniquely talented voice into America's consciousness with his number 1 multimillion selling success, LIGHTNING STRIKES. LOU'S chart topping success continued with two more million selling hits, RHAPSODY IN THE RAIN and I'M GONNA MAKE YOU MINE. RHAPSODY'S success was fueled by the fact that it was one of the first songs banned on the radio due to its suggestive lyrics!

LOU was more than just your average "teen idol". He was one of the decade's first singer-songwriters. Together with his eccentric collaborator, Twyla Herbert, LOU co-wrote nearly all of his songs. Twyla, nearly 30 years his senior, was a classically trained musician. It was the perfect partnership since LOU had not formal musical training.

Highlights from LOU'S performing career include appearances on "Dick Clark's Caravan Of Stars", sharing 72 consecutive one-nighters with Diana Ross and The Supremes and, a command performance for Queen Elizabeth and The Royal Family. LOU shared the stage with such artists as The Rolling Stones, The Who, Neil Diamond, Roy Orbison, and Jerry Lee Lewis.

John Lennon, Elton John, and Madonna are among the rock & roll legends upon whom LOU has had an effect. Elton John played piano for LOU during LOU'S 'London Period' in the early 70's and recorded LOU'S song, SHE SOLD ME MAGIC. John Lennon repeatedly pointed out in his interviews that "LOU CHRISTIE was one of my influences". And, Madonna thanked LOU in the liner notes of her 10 million selling Immaculate Collection LP.

Over the past decade, LOU has led a resurgence of Rock & Roll heroes performing through out the world. LOU'S fans recognize his distinctive vocal and writing performances in major motion pictures. Many distinguished directors are also fans. Some films that feature LOU'S songs include, Barry Levinson's RAINMAN, Whit Stillman's BARCELONA and THE LAST DAYS OF DISCO, Tony Bill's A HOME OF OUR OWN, Richard Linklatter's BEFORE SUNRISE, John Hughes, DUTCH, and Oliver Stone's TV mini series WILD PALMS.

LOU'S music is still immensely popular today. In addition to his recent re-releases, his most famous tracks can be found on greatest hits and other collections on Varese Sarande and Rhino Records. LOU'S 1996 CD, PLEDGING MY LOVE, is a collection of newly recorded songs, including seven co-written by LOU himself. LOU is also a major contributor to Rhino Records release, GREASE IS THE WORD, a newly recorded version of the soundtrack from the motion picture Grease. LOU'S CD single, CHRISTMAS IN NEW YORK, released in 2003, is certain to be a holiday classic. And, LOU'S latest project is his first ever, live CD recorded at the legendary Bottom Line in New York City. This is being released on Varese Sarabande and will be available this summer. From teen idol to Rock & Roll Legend, LIGHTNING LOU CHRISTIE STRIKES AGAIN AND AGAIN AND AGAIN!!!