A Special Invitation from The Beach Boys!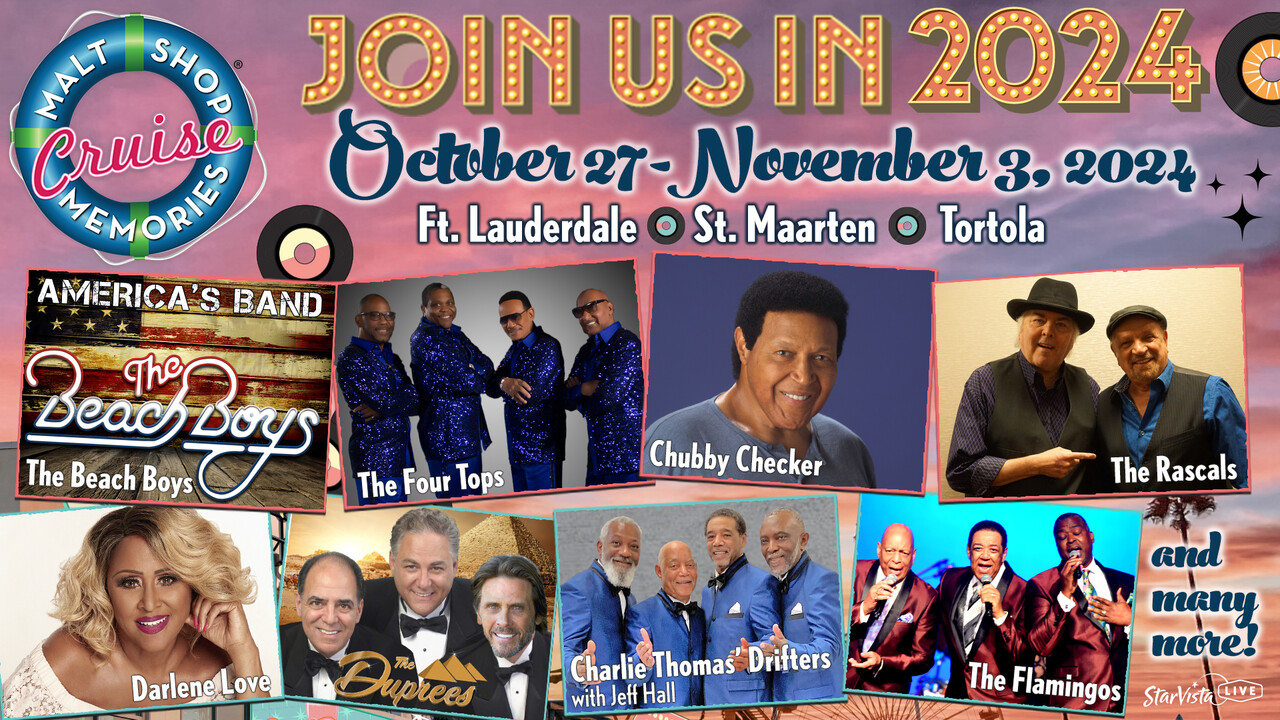 Come join the biggest Rock 'n' Roll Party at sea, the 2024 Malt Shop Memories Cruise! Experience over 50 LIVE performances featuring The Beach Boys, The Four Tops, Chubby Checker, The Rascals, Darlene Love, The Duprees, Charlie Thomas' Drifters with Jeff Hall, The Flamingos, The Coasters, Jan & Dean's Beach Party starring Dean Torrence, The Doo Wop Project, Ricky Nelson Remembered feat. Matthew and Gunnar Nelson, Frankie Pizarro, former lead singer of The Platters, Johnny Farina, Bobby Wilson, Sounds of the Street, Hal Bruce, Vinnie Medugno, Elvis Tribute Artists, and many more! Relive the good ole days of rock 'n' roll with your favorite performers and enjoy over 25 celebrity interactive events as we visit the beautiful ports of St. Maarten and Tortola.
Enjoy special insider rate when you use promo code AMERICASBAND!
Don't forget to use the promo code AMERICASBAND to guarantee your insider rate!
| DESIGNATION | DESCRIPTION | AMERICASBAND PRICING PER PERSON | SAVINGS |
| --- | --- | --- | --- |
| PS | Penthouse Suite | $ 6,549 | $ 500 |
| SA, SB, SC, SQ | Neptune Suite | $ 4,299 | $ 300 |
| SS, SY, SZ | Signature Suite | $ 3,749 | $ 300 |
| V, VA, VB, VC, VD, VE, VF, VH, VQ | Verandah Stateroom | $ 3,049 | $ 200 |
| C, CQ, D, DD, E, F, G, H, HH | Ocean View Stateroom | $ 2,499 | $ 250 |
| I, IQ, J, K, L | Interior Stateroom | $ 2,149 | $ 200 |
| M, MM, N | Interior Stateroom (Singles) | $ 2,899 | $ 200 |
Use promo code AMERICASBAND
Port Charges/Taxes/Gratuities/Admin Fee: $365 per person is due when remaining balance is due. The cost for 3rd and 4th passengers in a stateroom is $1,000 per person plus all applicable taxes and fees.
These prices are "cruise only" in U.S. Dollars (USD) and are quoted per person based upon double occupancy, except for "Singles", and do not include port charges, airfare, ground transportation, onboard purchases, purchased drinks onboard or excursions. It does include all meals, shows and onboard events produced by StarVista LIVE.
To qualify for our "Military Rate" you must provide a copy of your DD-214 or a military ID. Please email this to info@maltshopcruise.com after booking and the 5% discount will apply to your balance before your first payment installment. Please note that in order to receive the discount, you cannot have already paid in full at the time of the application AND the person who served must be sailing in the cabin. If you'd like to pay in full, please call our office at (844) 855-MALT (6258) to book your cabin and provide the above information.