T-Shirt Reveal and Booked Guest Information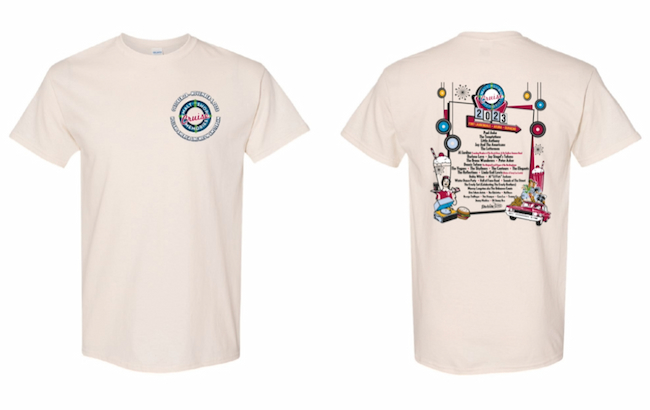 Now sharing the 2023 Malt Shop Memories Cruise T-Shirt design!! This year, we'll be delivering the t-shirt to your cabin on the first night of the cruise, so you don't have to worry about packing it!
If your craft room is your happy place, then you'll be excited to learn that the Nieuw Amsterdam now has an Arts Studio on Deck 11 forward (in the Crow's Nest), which will be available for T-shirt decorating this year! StarVista LIVE will provide a few portable hand sewing machines, glue guns, scissors, fabric paint, beads, bobbles, and a few other goodies to get you started. Hours of operation will be posted on the daily program you receive onboard.
If you would like to bring something more to add to your unique creation you can. Please be sure to check the HAL website (scroll down to Baggage Policies & Packing Advice) or what cannot be brought onboard, like irons, steamers.
If you're flying to FLL, keep in mind TSA will allow "Circular thread cutters or any other cutter or needlepoint tools that contain blades must be placed in checked baggage. You are permitted to keep scissors smaller than 4 inches in your carry-on baggage." See what you can bring on a flight here.
We will continue the tradition of the T-shirt contest at the end of the show so you can show off your crafting skills.
A few more reminders to get you prepped for your trip:
We will email your Holland America Line booking number to you very soon. All guests will be required to check-in online so make sure you are regularly checking your email for this information, coming soon.
Our website will house ALL the important information for booked guests under our Booked Guests Tab including

What to know before you go
Check in online instructions
Holland America Line Navigator App download instructions
Theme Nights
2023 Schedule
And more!

The Main Stage reserved seating cards along with your Ship ID card will be in your mailbox outside your stateroom upon embarkation. Lanyards and clear pouches to hold your cards will be available in your stateroom upon embarkation.
(if applicable) Your Insurance Confirmation of Benefits will be uploaded to your StarVista LIVE account. Log in to your account to view this information
Passport – be sure to check your passport expiration date now. All guests must have a passport that expires no sooner than April 28, 2024