Ports of Call
Luxury destinations
Explore our ports of call, where you can walk, shop, and dine in Caribbean paradises!

Ft. Lauderdale, FL
There are an abundance of things to see and do in the Fort Lauderdale area: visit the newly redesigned Fort Lauderdale Beach and cafes, stroll the historic Riverwalk, shop the luxurious stores on Las Olas Boulevard or venture to the Everglades for an intriguing air boat excursion.
---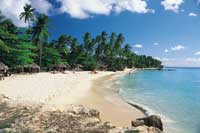 Grand Turk, Turks & Caicos Islands
About a quarter mile from the western beaches at Grand Turk, the sea floor drops 7,000 feet right down into dark blue. Just at the edge of the dropoff, there's a reef pocked with arches, turrets, and tunnels called the Grand Turk Wall. The reef is a haven for fish, and with its clear water, for divers, too. Cruise to Grand Turk for the diving, and if not, come for the beaches. Grand Turk has witnessed a lot of history, from Ponce de Leon to the space race. Come to the National Museum in the capital, Cockburn Town, to get a taste of it.
Discover more about Grand Turk with AFAR's local experts in the Grand Turk Guide.
---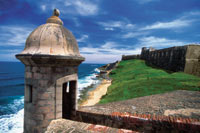 San Juan, Puerto Rico
Built in the 1600s to protect the town of San Juan, the massive Fort San Felipe El Morro took on British, Dutch, and American naval attacks in subsequent centuries. It seems everybody wanted a piece of the island. You'll see why. Cruise to Puerto Rico with Holland America Line for a mix of the historical, the natural, and the sensual. The fort is a World Heritage Site now, and you can walk its thick outer walls, peek into its sentry boxes, or just stop to drink in the view across San Juan Bay.
Discover more about San Juan with AFAR's local experts in the San Juan Destination Guide.
---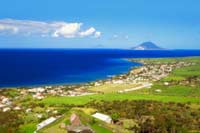 Basseterre, Saint Kitts, St. Kitts & Nevis
The British and the French played keep-away with the island of St. Kitts in the 17th and 18th centuries, with the British ultimately controlling the island, its capital, Basseterre, and Fort Brimstone, the "Gibraltar of the West Indies." Take a cruise to the city today and you'll see traces of both countries, in a setting that's all Caribbean. Part of the Windward Island nation of St. Kitts and Nevis, the busy port of Bassterre eases along a sheltered bay surrounded by green hills and mountains. Highlights of the town include Independence Square, the old section of town; the Circus, a main shopping district; and St. George's Anglican Church, built and rebuilt in the 300 years since its initial construction.
Discover more about Basseterre with AFAR's local experts in the Basseterre Guide.