Ports of Call
Luxury destinations
Explore our ports of call, where you can walk, shop, and dine in Caribbean paradises!

Ft. Lauderdale, FL
There is an abundance of things to see and do in the Fort Lauderdale area: visit the newly redesigned Fort Lauderdale Beach and cafes, stroll the historic Riverwalk, shop the luxurious stores on Las Olas Boulevard or venture to the Everglades for an intriguing air boat excursion.
---
Key West, FL
Ernest Hemingway made wild, colorful Key West his home, and you will want to do the same. Home to modern-day adventurers, artists, and poets, the island's charming Old Town teems with restaurants, bars, and unique shops. Add pristine coral reefs, coconut palms, and a laid-back attitude that is truly contagious, and it's easy to see why so many visitors to Key West never leave.
---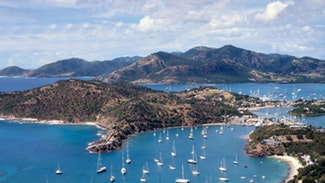 Cozumel, Mexico
The island of Cozumel off the tip of the Yucatan Peninsula continues to be known for its fantastic fishing, snorkeling, and diving opportunities. And despite the growth of tourism in recent years, the island and its only town, San Miguel, retain much of their original warmth and charm.
---

Half Moon Cay, Bahamas
The Caribbean is full of tropical wonders. But there's nothing like Half Moon Cay, Holland America Line's 2,400-acre private island paradise in the Bahamas. The most authentic, highest-rated private-island experience in the region, Half Moon Cay has won Porthole Cruise Magazine's Best Private Island award 17 consecutive years, and was also named the best in Travel Weekly's Readers' Choice Awards.
One visit and it's easy to see why Holland America Line guests wish they could stay here forever. Most Caribbean cruises departing from Ft. Lauderdale include a day at Half Moon Cay. Uncrowded and unspoiled, it combines the unparalleled natural beauty of a protected preserve with access to a wide range of amenities and activities. With miles of pristine, white-sand beach, guests can stay busy all day or simply luxuriate in tranquil solitude. Holland America Line acquired this beautiful island more than 20 years ago to create a unique and memorable experience for our Caribbean cruise guests.