Reminiscing with Bill Medley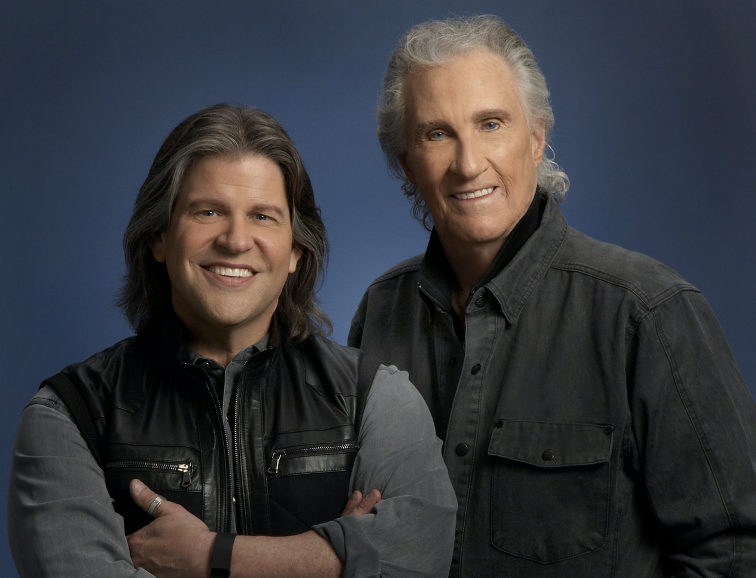 [Bill Medley, right]
"I'm stunned at my life. I look back and just say, 'Wow! How did that happen?'" Bill Medley tells the Scoop how he and fellow Righteous Brother Bobby Hatfield made some of the most-beloved records of all time.
Bill Medley and Bobby Hatfield grew up in what Bill describes as "the whitest county in the world: Orange County." Before they met, each spent many an hour "listening to this radio station that was playing all black music up in LA: KGFJ."
Bill also "fiddled" around with Little Richard and Fats Domino tunes on the family piano, and wrote his own songs, while Bobby honed his vocal skills on hits by Al Hibbler and Roy Hamilton. Ultimately, Bobby ended up in a local group called The Variations and Bill sang with The Paramours.
Inevitably, Bill heard about Bobby and, says Bill, "I went to hear him. I wanted to make sure he wasn't as good as I was. Man, was I disappointed! Bobby was a legitimate, ass-kicking singer."
Bill and The Paramours recorded a couple of 45s for Smash Records, and — after Bobby joined the group — a single for Ray Maxwell's Moonglow label in 1962. It wasn't long before Bill and Bobby merged their mutual love of R&B and their incredible vocal abilities.
"The black Marines at El Toro Marine base heard about this group down at the bar playing rhythm & blues, so they started coming down. If you had a real bitchin' car, they would say, 'Man, what a righteous car,' which meant 'good.' And if they liked you as a friend, they'd call you 'brother.'"
"And a lot of times they'd say, 'Hey, righteous brother, how are you doin'?' So when we recorded 'Little Latin Lupe Lu' (a Medley song inspired by Lupe Laguna, a "great girl" he dated), Bobby said, 'Let's call ourselves The Righteous Brothers.' I wish he would have called us The Beatles!"
Although they had high hopes for their first 45, nothing happened. But, as Bill puts it, "Life is often just a little bump to the left, a little bump to the right. Our contract was up with the club and as we were walking out the door on the last night, a [musician] friend — Mike Paterson — stopped us and talked us into going down to the Rendezvous Ballroom."
There the surfer guys and girls encountered something they, says Bill, "had never experienced: two white guys singing rhythm & blues [who would] sweat and make faces and throw the microphones around."
Their fans loved "Little Latin Lupe Lu," but when they tried to buy it, they couldn't find it. "So Bobby and Mike Paterson gave about 1500 records to this record store called Gracie's, and said, 'If you don't sell them, make frisbees out of them.'"
"Then, when (radio station) KRLA in Los Angeles called Gracie's, the clerks reported, 'Well, we sold 10 Elvis Presley, five Everly Brothers, and 1500 copies of some song by The Righteous Brothers.' And the radio station guy says, 'What? Send it up to me!' They played it a couple of times, got unbelievable response, and there you go." In late spring 1964, "Lupe" gave Bill and Bobby a national Top 50 hit that reached the Top 10 on the West Coast from LA to Vancouver.
Their career's next "little bump" happened after an appearance at San Francisco's Cow Palace, where ace producer Phil Spector saw them and offered to record them.
"Phil called (famed Brill Building writers) Barry Mann and Cynthia Weil and asked them to write a song for us. When they started teaching us 'You've Lost That Lovin' Feelin',' it sounded a little bubble gum. [Plus] Barry and Phil have real high thin voices, and I couldn't get up to that note (sings, 'You've lost that lovin' feelin''). I said, 'You have to lower the key.' And every time they lowered the key, Phil would slow it down, and it went from this teeny bopper song to a heavy, dramatic ballad."
"We thought it was a great song, a great production, and probably a good vocal. We didn't think it was a hit. We thought, 'It's too long.' I sounded like I was singing at the wrong speed. And I think everything that was 'wrong' with it, is what made it such a special record." And special, it was. In early 1965, "Lovin' Feelin'" became a #1 pop and R&B smash.
That, says Bill, was "good news and bad news." They had a massive hit record. Now what? "We were rehearsing the new song 'Soul and Inspiration' with Barry and Cynthia, and something happened where Phil said, 'We're not going to do that song. You're going to work with Carole King.' So that's what we did. We went in and recorded 'Just Once In My Life,' which was an incredible song, and I think maybe the greatest Phil Spector production of all of them."
What happened with their third Phil Spector single took everyone by surprise. "Phil had me produce all the albums and Bobby wanted to do 'Unchained Melody.' He sang it twice and left. Then he came back and said, 'Let me do one more thing.' He goes, 'I need your love,' and I said, 'Holy shit!' All he did was do the melody up an octave, but that's a lot of what that record is."
"Now Phil always put the worst song in the world on the B-side so the deejays would know exactly what to play, and I guess he thought it was [that] shitty."
Although the designated A-side "Hung on You" and "Unchained Melody" debuted on the national charts at the same time, Bobby's solo vocal B-side ultimately won out, peaking in the Top 5.
Like "Unchained Melody," The Righteous Brothers next 45 — "Ebb Tide" — was a cover of a 1950s Roy Hamilton hit. It, too, reached the Top 5: a run of four Top 10 singles in one year. And yet, their next release appeared on another label.
"It wasn't Bobby's or my decision," says Bill. "We were caught in the middle of some legal mess between Phil and Moonglow, and MGM (Verve) wanted to pay us a million dollars to go with them."
Bill knew just the song for their leadoff release. "I called Barry Mann and said, 'Send me 'Soul and Inspiration.' He said, 'We never even finished it.' I said, 'Please finish it.'"
Bill also produced it. "I hired a lot of the same musicians that Phil used, but I did a lot more stuff live, rather than piece by piece. I probably did the record in one day and Bobby and I sang it in two hours."
Five weeks after its chart debut — on the week of April 9, 1966 — "(You're My) Soul and Inspiration" roared into the top chart spot.
Verve followed "Soul" with a 1955 Al Hibbler hit, and although "He" turned in a respectable Top 15 performance, subsequent Verve singles did less well.
"In '68 I left The Righteous Brothers. I wanted to be a singer/songwriter, and I just figured it was a good time to jump out there." As a solo, Bill quickly scored with his second MGM single, written by…Barry Mann and Cynthia Weil.
"Barry sat me down and said, 'This is about a white guy in love with a black woman.' Man, in those days that was a very touchy thing to do. 'Brown Eyed Woman' was Top 10 in LA and in New York, and did nothing anywhere else. But it was a really good song and one of my favorite records."
Next Bill signed with A&M, but behind-the scenes he was facing a crisis. "In '73 or '74 I was told I'd never sing again. I did everything I could to get better, and by the time we did 'Rock and Roll Heaven,' I could sing well enough to do that song." After a few more r&b releases, Bill took some much-needed time off.
Between 1978 and 1987 he released a string of singles and toured extensively. Then, he says, "I got a call from (music producer) Jimmy Lenner who said, 'We're doing this movie called Dirty Dancing and we want you to sing the title song. It's a duet with you and a girl.' I said, 'I can't do it because my wife is pregnant.' I turned it down for three months."
After his daughter was born, he finally agreed to do it. "Jennifer (Warnes) and I just recorded it for the hell of it. We didn't think the movie was going to do anything, and it became a monster." Indeed, it did. "(I've Had) The Time of My Life" gave Bill and Jennifer a million-selling #1 single. The soundtrack also topped the album chart and ultimately sold a reported 32 million copies worldwide.
Three years later, "Unchained Melody" stole a scene in the movie Ghost, propelling both the original and a newly recorded version of The Righteous Brothers 1965 hit into the Top 20. (For Valentine's Day 2020 Pandora named it the most romantic record of all time.)
The Righteous Brothers were hot once more. "We got back together, and we toured until Bobby passed in 2003. [His death] was really, really, tough, and I stopped singing for a while. Then in '06 I went to Branson to see Bucky Heard — an old friend of mine — perform, and he just knocked me out. I said, 'He's the guy!' I wouldn't have reformed The Righteous Brothers with anybody else."
When he and Bucky perform on this year's Malt Shop Memories cruise, Bill knows exactly what the people want. "We do all the hits. That's what we're there for and that's what the audience is there for."
Looking back, Bill reflects. "I'm stunned at my life. I look back and just say, 'Wow! How did that happen?'" He pauses, then adds, "I've done more by accident than I have on purpose. That's for sure."
Ed Osborne © 2020