The Scoop Talks To Joe Billingslea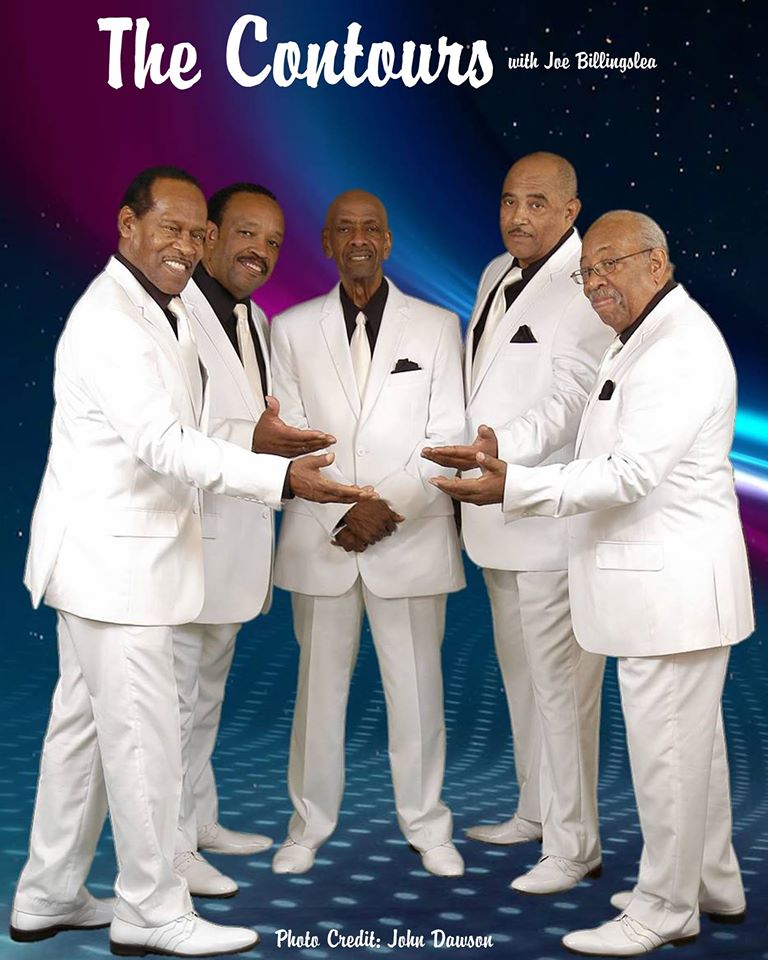 Joe Billingslea in the center.
"I grew up around gospel and I liked it," says Joe Billingslea, "but then I started liking rock 'n' roll and stuff like that. I admired Fats Domino. I liked The Clovers, I liked The Drifters, Billy Ward and The Dominoes, The Orioles. I liked The Royal Jokers; they were from Detroit. I listened to all the harmonies. Of course, I liked the slow tunes because you could get a little closer to your girl!"
"I went into the Air Force in '54. I was 17 then, but I'm talking about when I first started going to house parties at fourteen-and-a-half, 15, 16 years old. You'd get a bunch of guys from the neighborhood and you'd become a group. Everybody'd meet at the party…it was a quarter to get in… and you'd sing a song and another group would sing a song. Everybody'd try to get the girls' attention."
"I sang a lot of fast stuff. I liked Hank Ballard and The Midnighters. Our group patterned ourselves after them because The Midnighters were doing a lot of movement on stage, so we stole different stuff from them and put it in our act."
Air Force duty didn't slow Joe down. "You'd sing around the barracks. There were five of us and we called ourselves the Revere Tone Five, from the Revere Tone [tape] recorder that we had."
"Billy Gordon and I both got out of the service around the same time. I ran into him on the bus one day. He was singing with a group called The Majestics, so he asked me to come along to rehearsal. Every day I'd go because I liked what they were doing."
Joe's big break came when Donald Storball left the group. "I took his spot in The Majestics. [Years later] Donald wound up singing in The Capitols, who made 'Cool Jerk!'"
Ultimately, Billy and Joe left The Majestics and formed The Blenders. "It was Billy Hoggs, Billy Gordon, myself, Hubert Johnson, and a guy called Leroy Fair (soon to be replaced by Sylvester Potts). I used to sing second tenor."
"We went down to Flick and Contour studios and the guy wanted the song 'Come On And Be Mine,' but he didn't want the group. So we left and were walking down Woodward Avenue, that's the main thoroughfare of Detroit, and I said, 'Let's change our name. Anything except a bird.' I didn't want to be called no bird!"
Joe suggested "The Contours." "I got the name from when we went to audition. I had no idea what the hell 'contour' meant so I said, 'It means a straight line. That means we're going to the top!'"
Joe and the guys wasted no time moping about their experience at F&C. "We had to pass Motown, which was then called Hitsville [U.S.A.], on the way home, so we stopped and we rang the doorbell. We met Berry Gordy and we auditioned 'Whole Lotta Woman,' 'Come On And Be Mine,' and 'Move Mr. Man.' He told us that we weren't quite ready yet, to come back in about six months. As we were leaving, his secretary Janie Bradford told us, 'You guys sound pretty good: come back in about two or three weeks.'"
"Hubert Johnson said, 'I'm going to call my cousin.' So I said, 'Who is your cousin?' And he said, 'Jackie Wilson.' And we all started laughing. 'Yeah, yeah, right, Hubert.'"
At a house in the Detroit suburb of Highland Park, "they opened the door, and they grabbed him and embraced him. So I said, 'Well, he knows somebody here anyway.'"
Sure enough, they were in Jackie Wilson's house and soon the man himself walked into the room. The Contours told Jackie about their Hitsville audition, and "He said, 'Let me hear the songs.' He said, 'OK. Have a seat. I'll be right back.'"
"We had no idea what he was going to do, but he called Berry, and then he said, 'You guys go back to Hitsville. Berry wants to hear you again.'"
"We hopped in the car, and, man, we sped down the street. When we got out of the car, we kind of cool walked real slow like we were bad dudes walking to the studio. We sang the same three songs that we had sung for Berry a couple of hours earlier, and he said, 'You guys sound great! Come back tomorrow and we'll sign a contract.'"
In the summer of 1961, Gordy's latest signees recorded and released "Whole Lotta Woman"… twice. "Berry said, 'This is the hit song, but there's something missing. We did the song a second time and we did it slightly different. But he could never come up with what was missing."
Of their second single, Joe says, "I liked 'The Stretch' because it was an uptempo song and it showed people that we were dancers. It was unfortunate that it didn't do anything."
Sometimes though the third time is the charm," and so it was for The Contours. It all began, says Joe, on a Sunday afternoon when they stopped by Hitsville after a sock hop. "Berry was there in the studio and the first thing he said was, 'You guys seen The Temptations?' We said, 'No. We haven't seen The Temptations.'"
"About ten minutes [later], he said, 'Come on down. I want you to hear this song. See what you think of it.' So he played us 'Do You Love Me.'"
"I was a smart ass so I said, 'I don't like the song, man!' He said, 'You don't like it? Why?' I said, 'It ain't nothing but 'Twist and Shout.' Shake it up, baby…do you love me.'"
He said, 'Okay, I'll give the song to The Temptations.' [Then] we all said, 'Wait, wait!' We'll do the song.'"
"Now…eight or nine years ago I asked Berry, 'What is the true story?' He looked at me and laughed, and said, 'Can you imagine (Temptation) Eddie Kendricks singing 'Do You Love Me' like the way I wrote it?' I said, 'No.'"
"'Paul Williams?' I said, 'No.'"
"'What about David [Ruffin]?' 'No, not really.'"
"He looked at me and laughed. 'You guys sang the song, right? That's all I gotta say.'" He knew we would do our best if he dangled that carrot in front of us. And he succeeded."
"We recorded the song and it was okay. But when they mastered the song, they had this little fadeaway part where it would jump back on. We all said right away, 'This is a smash!'"
Indeed, it was. "Do You Love Me" climbed into the Top 3 on all three national music trade charts, reached #1 on the R&B list, and sold gold.
The Contours hit the road with the first star-studded Motortown Revue. "Berry called us back home," says Joe. "I think we had two days off. We flew back and recorded 'Shake Sherry.'"
"I said [to Berry], 'How did you come up with that?' [He said], 'When The 4 Seasons had 'Sherry,' what did she do when she went out tonight? She shook!' That was our second hit."
Subsequent singles didn't perform as well and The Contours had some issues with Motown. "They could have been resolved, [but] we had a Judas in our camp. Berry knew what we were going to say and he was all prepared for us." Three members left Motown, two stayed. One year after the release of their biggest hit, the original Contours were no more. Their final hit was "Can You Do It" (although afterwards Gordy released two B-sides recorded by the DYLM lineup).
Although Joe moved on to a successful career with Chrysler and the Detroit Police Department, he and other singers also did local club gigs as The Contours. Then came that once-in-a-blue-moon event.
As Joe recalls, "Some guy came up to me and said, 'Have you seen the new movie Dirty Dancing? Your record is in there!'"
"I said, 'They put our record in a…' (I can't say what type of movie I said.) 'Can't they put our stuff in something else?' He said, 'Nah, it's a good movie, man.'"
"Later, I found out what happened. Eleanor Bergstein took her script to California and this guy didn't like 'Do You Love Me.' She said, 'Well, that's my favorite song and if you don't take that song, you can't have the story.' So they put it in the movie!"
On its second go 'round in 1988 — 25 years after its original release — "Do You Love Me" scored again, peaking at #11 on the Billboard Hot 100.
Fifty-five years have passed since Joe and The Contours created their iconic hit. "There's talk about retiring: that I'm too old for this stuff," says Joe. "I'll be 80 years old in November (two days after Holland America's Eurodam returns to Ft. Lauderdale), but you'll still see me dancing!"
Joe pauses for a moment, then continues. "We say, 'Do you love me?' No. It's we love you!'"
Ed Osborne © 2017