Two Special Women Of The Malt Shop Era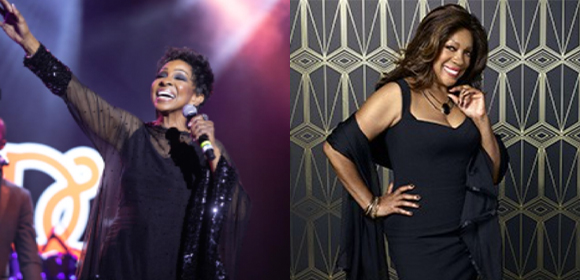 The 2020 Malt Shop Memories Cruise will be filled with all of your favorite superstars of the late '50s and early '60s, and we're in awe of the two legendary women who will be joining us onboard: Gladys Knight and Mary Wilson of The Supremes. There's a reason why both have been inducted into the Rock and Roll Hall of Fame; their songs and voices achieve the impossible - defining an era while remaining timeless.
We got to wondering if the two icons have crossed paths before and found these amazing moments they shared and a few surprising things they have in common:
Their relationship goes all the way back to Motown. In fact, Gladys and Mary were at the opening night of "Motown The Musical" on Broadway in 2013. And each of them have a vintage track featured on the new "Motown Unreleased 1969" album, with Gladys singing "I Had a Dream (Opus I)" and Mary Wilson delivering (with The Supremes) "For Once in My Life."
It's already such an honor to be in the Rock and Roll Hall of Fame, but did you know their songs are in the GRAMMY Hall of Fame, too?: "Midnight Train to Georgia" and "Heard it Through The Grapevine" by Gladys (with the Pips) and "Stop in the Name of Love," "Where Did Our Love Go" and "You Keep Me Hanging On" by Mary and The Supremes.
They've even shared a song or two. Mary recorded "If I Were Your Woman" shortly after Gladys' version hit the #1 on Billboard's Soul Singles chart in 1971. And Gladys sang "Keep An Eye" in 1969, a year after The Supremes released their version. They also both recorded "You're Gone (But Always in My Heart)."
Motown's music director, Maurice King, was an early influence on the pair and first started working with Gladys when she was just 12 years old.
The two superstars were students of Cholly Atkins, the legendary choreographer who created iconic dance moves for many of the Motown artists. Mary once compared him to Fred Astaire.
And speaking of cutting a rug, both Gladys and Mary have shown off their moves on "Dancing With the Stars." Fans insist they spotted Mary Wilson in the audience back in 2012 cheering on Gladys, who offered to return the favor, telling Billboard magazine recently that, "I will be there watching and cheering Mary on."
Whether they'll be singing, dancing or a bit of both, we're beside ourselves with excitement to see these two amazing women on the Malt Shop Memories Cruise next year!