Sonny Turner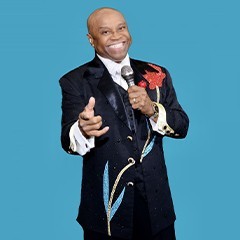 In late 1959, Sonny Turner replaced Tony Williams as the lead singer of the original Platters. Chosen out of 100 singers who auditioned, Sonny at the young age of 19, toured the world with "The Platters" - bringing their music to people of all nations.
As a recording artist, Sonny brought The Platters back to the pop charts in the 1960's with such hits as "I Love You 1000 Times", "With This Ring" and "Washed Ashore"; as well as re-recording major Platters hits like "Only You", "The Great Pretender" and "The Magic Touch." You can hear Sonny's voice in various movies such as "The Nutty Professor II" starring Eddie Murphy, "Hearts in Atlantis" starring Anthony Hopkins, and "Prince of the City" starring Robert DeNiro.
Sonny Turner is the only surviving member of the original group still performing today. His unmistakable voice can be heard on the hundreds of hit records that made The Platters one of the most successful vocal groups of all time. Sonny continues to dazzle audiences internationally with his soaring tenor vocal, powerhouse show and charismatic charm and professionalism.
In 2005, Mr. Turner received The Lifetime Excellence in Entertainment Award presented to him by Consumer's Entertainment Exchange and the Doo Wop Hall of Fame. Further accolades followed - the Black Music Award in 2007, and The Gateway Classic Lifetime Achievement Award in 2008. Sonny has also been inducted into the Beach Music Hall of Fame and Vocal Group Hall of Fame. In 2009, he was inducted into the Pacific Avenue of the Stars - in Wildwood, NJ.
He is recognized by the Rock n Roll Hall of Fame in his hometown of Cleveland, Ohio. Sonny was instrumental in getting "Truth in Music" statutes passed into law in the states of Nevada and North Dakota by providing invaluable testimony and documentation from a recording artist who was "really there" when the music was recorded. Don't miss an opportunity to see and hear this legendary performer in concert - Sonny Turner!