The Knockouts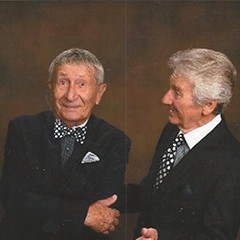 Bob D'Andrea
Born in the Bronx NY. The multi-talented "singer, comedian, actor, dancer, impressionist" was bitten by the show business bug at a very early age. Soon after high school, he attended and graduated from the prestigious "Academy of Dramatic Arts"
in NYC.
In 1957 he formed the Knockouts and the group soon became one of the most popular musical/show acts in the country.
In 1960 he recorded the Doo Wop hit "Darling Loraine."
Through the years, Bob has entertained people all around the world. His on stage energy and performances have made him legendary among his peers.
Bob has also appeared in motion pictures such as the mega hit "A Bronx Tale" where he created and played the character "Tony Toupee."
Today, the Knockouts (Bob D'Andrea & Gary Chriss) continue to bring their unique brand of music, comedy, energy and excitement to audiences everywhere.
Gary Chriss
Gary Chriss formed his first band in 1958. Gary Chriss & The Crystals very quickly became one of the most popular bands in New Jersey and around the country.
Gary's first recording, "Our Favorite Melodies" made the Billboard Top 100 chart in early 1962. After touring the country as part of the "Dick Clark Caravan of Stars" for some time, he continued to perform around the country and at home
in NJ.
In 1970 he became the lead singer for the group The Glass Bottle, had the top 20 hit song "Ain't got time anymore." Gary was also the featured vocalist in the motion picture "The People Next Door" and along the way, has performed in many radio and TV commercials as well as appearing in national print advertisements.
Gary's most successful recording was in 1978 with the world wide #1 disco hit "Rio De'Janiero."
Now, teamed with his long time friend Bob D'Andrea, the Knockouts are widely known as "the good times rock 'n' roll oldies Doo Wop duo.