Remarkable "Tens" From Our Special 10th Anniversary Celebration Roster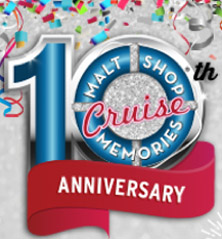 With the 10th anniversary of the Malt Shop Memories Cruise just a year away, we've found ourselves thinking about the number 10 a lot lately…
Did you know that Smokey Robinson's first Top 10 hit was "Shop Around" in 1960 with The Miracles? And it wasn't just any Top 10 hit. It went all the way to #2 on the pop chart AND #1 on the R&B chart. But it wasn't until 1965 that he scored his first Top 10 album, with "Going to a Go-Go" climbing to #8 on the pop album chart and #1 on the R&B chart.
Did you also know that The Beach Boys' 10th album (not counting a Christmas album) was their groundbreaking "Pet Sounds?" Although it's become one of the most influential and critically-lauded records in pop history, it never went higher than #10 on the album chart when it was released in 1966. And we wonder if The Beach Boys knew they were going to be on our 10th anniversary cruise way back in 2009 when they put together "10 Great Songs," a compilation of their most essential hits.
10 movies have featured music by Freddy "Boom Boom" Cannon's music, including "X-Men: First Class."
In 1972, The Brooklyn Bridge sold their 10 millionth record, just four years after their first performance together at a "battle of the bands" contest on Long Island.
Smokey Robinson and The Beach Boys have been nominated for a combined total of 10 GRAMMY Awards.
Gary Lewis and the Playboys have had 10 songs land in the Top 20.
And next year, Jerry Blavat will celebrate his own 10th anniversary as the host of our Malt Shop Memories Cruise!
We can't wait for you to join us next November to celebrate this very special milestone and anniversary!