The Scoop Talks to Chubby Checker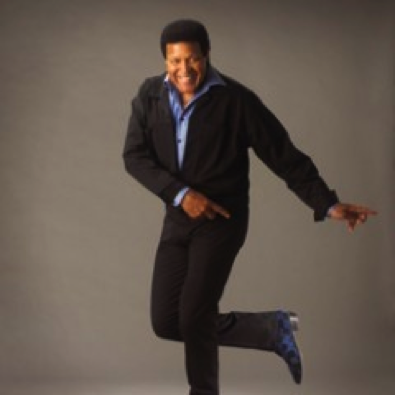 He was born Ernest Evans and grew up in Spring Gulley, South Carolina on his dad's farm. "They still only have about 52 people that live there," says Chubby, "and country music was all the music that we ever heard, unless we were in church."
"My mom took me to the Georgetown County Fair and Ernest Tubb, [the legendary] country singer, was there, and that did it for me. A couple of weeks later my aunt took me to a high school dance. I must have been four or maybe I was five."
"She took me to see a piano player [who] was about 12 years old. His name was Sugar Child Robinson. He was in a tux and he had his bass and his drummer with him, and he was just amazing. I was so excited. Now I just wanted to go out and play and be in front of an audience. That's all I ever wanted."
After his family moved to Philadelphia "in 1949 or 1950," Chubby recalls, "things really opened up for me in the music world. Rock 'n' roll was born around 1951 when I was 11 years old: Billy Ward and The Dominoes and Clyde McPhatter (with The Drifters) started to come along, and all the black kids were doing their vocal group thing."
Chubby jumped right on board with the new sounds. "I put a group together called The Quantrells [when] I was 11. I sang lead and put the harmonies together. We'd stand on the corners and sing all those doo-wop songs. We played together for about five years. It was so much fun, but in the back of my mind I always wanted to be on stage in front of an audience, because I knew that's where the reward was."
"We sang at South Philadelphia High School and I did some solo things. I noticed that wherever I played, it was a big event. I don't know what it was, but there was something about me that excited people. I had a very good rapport with the audience."
There was so much fighting within the group that when Chubby got the chance to do some solo recording, he took it. Through Kal Mann of Cameo-Parkway Records, Chubby made a private Christmas recording for Dick Clark on which he imitated several singing stars. (It was Clark's first wife who added — in the spirit of Fats Domino — "Checker" to Ernest's nickname "Chubby.")
Chubby's first single and first hit for Parkway Records "The Class" was similar in format in that he impersonated Fats Domino, The Coasters, Elvis Presley, and The Chipmunks. Originally released as the flip side of "Schooldays, Oh, Schooldays," "The Class" became a 1959 Top 40 hit on all three trade charts.
A year and two failed singles went by. "I was thinking that maybe it was all over," Chubby says. "I went on tour that summer and [then] I went back to high school. We didn't have any hits; we had nothing going on."
Chubby sought out divine intervention. "My mother always had a direct hookup with God. So I told her to talk to the Lord so that He could do something here. She said she had a dream that I would make a song that belonged to someone else and it would cover the whole world.
A week later Dave Appel (C-P's in-house arranger) says, 'Come up to the studio. We want you to sing 'The Twist.'' I said, 'That's a Hank Ballard song.' He says, 'Well, it's not a hit by him, so just come on up here, Chubby!'"
"They had [the instrumental track] finished, and I went in and I sang it four times. Dave says, 'Chubby, there's a flat note on 'daddy's sleeping.'' I said, David, I've got to go do my homework. They'll never know. Goodbye!'"
"The Twist" achieved liftoff velocity on August 6,1960 when Chubby introduced it to a nationwide television audience on the Saturday night Dick Clark Show. On October 3, Chubby celebrated his nineteenth birthday with the #1 record on Cash Box magazine's Top 100. It also topped the Billboard and Music Vendor charts, and did so again in January of 1962: the only single to reach #1 twice in different years. At decade's end, its 39 week run on the Hot 100 was the longest of any 45 of the 1960s.
"The Twist" became a worldwide dance sensation and redefined popular public dancing. "The dance floor is still changed because of what we did," says Chubby. "People realized that they could do their own thing while their partner's watching them. It's like doing a striptease in your clothes. It's very exciting, and it's never left us."
The impact of "The Twist" on pop music can't be overstated. It pulled dozens of twist hits into its orbit, bridged the generation gap from young to old, and became the rage of the rich and famous. "We [started] a lot of things," adds Chubby. "Styles and aerobic exercise. Everybody around the whole world is twisting right now!"
For Chubby, "The Twist" was just the beginning. He scored next with a rock 'n' roll update of 1949's monster hit "The Hucklebuck," followed by a chartoppin' rendition of Don Covay's "Pony Time" and "Dance The Mess Around."
Chubby revisited the twist in the summer of 1961 with "Let's Twist Again" — which won a Grammy for Best Rock & Roll Recording — before scoring with "The Fly" (Top 10), "The Twist" (again), "Jingle Bell Rock" (with Bobby Rydell), "Slow Twistin'" (with Dee Dee Sharp, a Cash Box #1), and "Dancin' Party" (Top 20): six hits in one year!
"By the time 1962 came around," says Chubby, "we had already recorded six albums. We didn't even know why we were recording them, but when 'The Twist' became a big success and everybody was trying to catch up, we had five albums on the charts. No one's ever had five albums in the Top 12 at one time…ever."
By the fall of 1962, the dance craze domination of the Top 40 was slowing down, but Chubby was not. "Popeye The Hitchhiker" (the A-side) reached the Top 10 and its B-side "Limbo Rock" did even better, going to #1 in Cash Box.
The natural successor was "Let's Limbo Some More" (backed with "Twenty Miles"). Both were a departure from Chubby's usual fare and kicked off a string of world folk-flavored discs; including "Loddy Lo" backed with "Hooka Tooka," which was sliding out of the Top 30 when "I Want To Hold Your Hand" blew up the existing American pop music scene.
Although Chubby's 1963 singles were respectable Top 20 hits, there were problems behind the scene. "The guys [at the label] were not writing as exciting songs as they did before. They didn't want anyone to write anything but them, and they lost the vibe. Then the British came and the rest is history."
Although he flirted with the charts again in 1969 with "Back In The U.S.S.R." and 1982 with "Running," radio, he says, "just didn't want to play a Chubby Checker record." His final Top 20 hurrah came in 1988 when he sang "The Twist (Yo, Twist!) with the Fat Boys.
"Being Chubby Checker," he says, reflecting on his career, "is a very mixed blessing. The good is good and the not good is not good. Here I am with the number 1 song in the world that changed the dance floor and I couldn't be the star of a rock 'n' roll tour."
"Even the movies I made…here I am good lookin', sweet looking, and I ain't got no girl. Give me a break here! No girl? Please!" (laughs)
Still, Chubby continues, "It worked out well. We get a chance to go out and play, because I have an audience. We come. We kill. We burn it down. And go home. Always. That's what we do."
"I'm looking forward to the Malt Shop cruise because we have so much fun on those," adding, "It's all about the people. I'm just a good excuse to come to the party, but it's all about them."
Ed Osborne © 2017