The Scoop Talks to Gary U.S. Bonds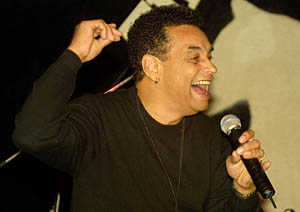 "I'm here and I'm not going anywhere anytime soon!" So says our featured artist as he enters his seventh decade of rockin' and rollin'. Read all about his illustrious career here:
Born in Jacksonville, Florida, but more closely associated with Norfolk, Virginia to where his family moved and from where his hits originated, Gary Levone Anderson got his singing start in the church choir and as a member of a street corner harmony group.
The Turks sang outside Boone's Market at night and won local talent shows. When Frank Guida, owner of the Frankie's Birdland record store, heard Gary's vocalizing skills, he signed the just-barely twenty-one year old to his record label Legrand.
Gary and Legrand scored a Top 10 smash their first time out. The label for "New Orleans" read "By - U.S. Bonds": Guida's sly attempt to grab air play in the hope that radio stations would confuse his record with a public service announcement that urged people to "buy" U.S. government savings bonds. Maybe the ploy worked; maybe it didn't. In any case. Gary Anderson had a hit…kinda.
Gary picks up the story. "'New Orleans' was given to me by Joe Royster who was the engineer there at the studio in Norfolk, VA [and] gave me this particular song that he had written, which was a country song. I said, 'Well, I can't do it country.' I was trying to do rock 'n' roll, so I had to take it home and kind of rearrange it."
"I got it into like a blues, and then I remembered that my mom used to listen to 'Minnie The Moocher' (a 1931 hit by Cab Calloway) with the 'hi-dee, hi-dee, hi-dee, ho' in there, and the interaction with the audience. So we put in 'hey, hey, hey, hey.'"
So far, so good.
Gary continues. "When I first heard the song on the radio, it was kind of weird. Jack Holmes was the local deejay on WRAP radio, and he said, 'Here's a new song by a boy right here in Norfolk, Virginia. Call in and tell us what you think.'"
"He started playing 'New Orleans,' and he said, 'This is U.S. Bonds! And I went, 'Who is U.S. Bonds?' I didn't know that was my name at the time until I heard Jack Holmes say it on the radio, and I thought somebody had stole my song. I'd been in show business 10 minutes and they already stole my song!"
Although he didn't receive a writing credit for his "New Orleans" composing contribution, Gary did get one for the flip side ballad "Please Forgive me" and — theoretically, at least — should have been paid a share of the record sales royalties.
Despite being another blistering rave-up, Bonds's follow-up 45 "Not Me," with its references to "fun" with a married woman and fist fights, was a non-starter. Perhaps it was just too much for the staid folks of 1961. If so, Gary's third Legrand single made no such missteps.
Gene Barge played the wailing sax heard on Bonds's sides and it was a record by him that gave Gary his biggest hit. "'Quarter To Three' had been done by Daddy 'G' and The Church Street Five as an instrumental," says Gary, "but it wasn't doing that well. So Frank Guida said, 'Can you write some lyrics to it?' So I went in the other room and I wrote these lyrics which were profound."
Thinking back on them still makes Gary laugh. "Everybody came to say, 'Boy, those are some genius lyrics,' and I said, 'Are you kidding me? It took me 10 minutes to do them!'"
As for the signature raucous sound of "Quarter To Three" and his other singles, "It wasn't planned. It was kind of a makeshift studio and nobody knew it was going to sound like that. It just happened."
And "Quarter To Three" did happen, becoming an across-the-board #1 smash as the summer of '61 opened. Hot on its heels came "School Is Out," which fell just one short of the top slot on Cash Box magazine's Top 100 chart. On August 1, both of Gary's hits were in the Top 10 at New York City powerhouse WABC radio.
Only Gary didn't know how successful he was. "I wasn't on the road. The record company didn't want anybody to know that I was a black artist because my records were being played on pop radio. I hadn't made any money, I hadn't seen the crowds, I hadn't done anything. But once I got out there, then I realized 'Wow, I'm more popular then I thought. This is cool.'"
Gary had two more hits before year's end: "School Is In" and — grabbing a piece of the current dance sensation — "Dear Lady Twist." As with the two "School" discs, he co-wrote his spring of 1962 Top 10-er "Twist, Twist Senora." After his final Billboard Hot 100 Top 40 single "Seven Day Weekend," Gary faded from the charts although he continued to release records on Legrand into 1968.
But Gary wasn't done, yet. He returned to the R&B chart in 1971 with a song he wrote. "'She's All I Got' was easy to do. I kind of get a melody in my head and than I'll try and form the lyrics. Nobody taught me so I just did it that way. That song has been a hit three times and I've never recorded it myself, which doesn't seem fair to me (laughs)."
"I wrote it as a country song even though the first release was by Freddie North, which was R&B. Then Johnny Paycheck picked it up (a country #1 in '71) and then Tracy Byrd got it (in 1979)." "She's All I Got" was also nominated for the 1972 Country Music Association Song of the Year award.
When Bruce Springsteen and Stevie Van Zandt entered Gary's life in 1981, it was Top 10 time again. "We'd sit in the studio and hang out and just have fun like we did in the old days," says Gary. "'This Little Girl' was written in my house at three o'clock in the morning. My wife wasn't happy," he admits with a chuckle.
That brief moment aside, Gary names his wife Laurie ("We've been married for 55 years.") and their daughter Laurie ("She's a great kid even though she's not a kid anymore.") as what he's most proud of in life.
As for the upcoming spectacular Malt Shop Memories 10th Anniversary cruise, Gary is very enthusiastic. "My friend Jerry Blavat will be there to egg me on, and it's gonna be rockin'. I can tell you that!"
Ed Osborne ©2019