A Word With Sandy Yaguda Of Jay & The Americans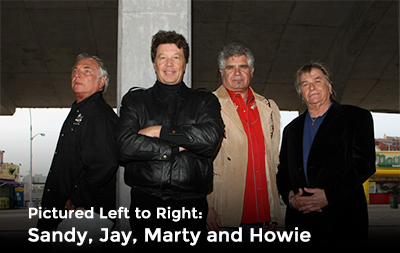 "Everybody sang in Brooklyn. There were hundreds of guys and they were all good, and we wound up being the big group." That's Sandy Yaguda (stage name: Deanne) of Jay & The Americans describing the grassroots music scene in New York City during the 1950s and early 1960s.
"We all had made records. Kenny Vance (Rosenberg) and I were in a group called The Harbor Lites. Jay Traynor was in The Mystics. Marty Sanders (Kupersmith) and Jay Black (David Blatt) were in The Two Chaps and The Empires. Howie Kirshenbaum (Kane) was not in a group until we formed Jay & the Americans: he was a mortician!"
Street corners, hallways, and bathrooms were their classrooms; radio stations and record labels were their lesson books. "The blessing of growing up in a metropolitan area," says Sandy. "is that you have a lot of different stations to listen to. We sang on Flatbush Avenue where there were all these storefronts. We would go in after the stores closed and bounce the sound off the glass windows so we got the echo."
"The records that we loved the most, were by The Drifters and The Coasters. They had strings, they had horns, they had Latin percussion. They were great records."
Sandy and his fellow singers treated the text on the 45rpm labels as their Bible, and the two names that appeared again and again on the singles that they loved were Leiber and Stoller.
"Jerry Leiber and Mike Stoller," says Sandy, "had a crew of artists, they wrote the songs, and they produced the records. Their names were like God to us."
"They were in New York in the Brill Building, and we got lucky because this song writer that we knew, Terry Philips, said he could get us an audition with them."
"We learned two or three of Terry's songs, and we also rehearsed 'Wisdom Of A Fool' by The Five Keys without Terry. [At the audition] when we did 'Wisdom Of A Fool,' we could see that Jerry Leiber and Mike Stoller were impressed, because Jay Traynor had a very soulful voice for a white kid, and they were soul guys."
Ushered from the room by Terry so that "the grownups" could talk business, Sandy, Howie, Kenny, and Jay were stunned when ten minutes later Philips burst out of the room and told them "the deal is no good."
"We went home dejected," Sandy recalls. "When Kenny told his mother, she said, 'Well, go back and talk to them. Don't take 'no' for an answer!'"
Which is what Kenny did the next day, alone. "Leiber and Stoller told Kenny, 'This guy Terry wants to produce the records, he wants to write songs, and we want to do that for you.' Kenny says, 'So do it.' Not a problem!"
With the deal sealed, there was just one more hurdle before the four went into the studio.
"Because Leiber and Stoller worked with all these black artists, they were excited about having a white group who had a lot of soul that they felt could do justice to more material. We were clean cut, I was in college, and they were very tongue in cheek…so they named us Binky Jones and The Americans."
"We went home dejected…again. Who wants to go through life being called Binky Jones and The Americans? Jay called them and said, 'You gotta do me a favor. I can't go through life being called Binky Jones. 'Jay' is my nickname and there's no ethnicity to it,' and they went, 'Okay.'"
Their first release on United Artists was a song from the smash Broadway show West Side Story. "We figured the publicity for the movie would be great, and 'Tonight' was a great song and ours was the teen version. We sold almost 50,000 copies of singles of 'Tonight' in the tri-state area."
Next up was "Dawning:" an uptempo, group harmony number that quickly disappeared. However, deejays on the West Coast flipped it over and "She Cried" began to gather steam market by market.
"She Cried," says Sandy, "was originally a country and western demo, and Jerry and Mike [used] a sexy, baion beat, and made it a drone kind of song that just mesmerized you. It was just a whole different approach. It was also the first time in a pop love song where the guy told the girl to take a hike. We were intrigued by it, but I didn't think it was going to be the hit."
And yet…a hit it was, going Top 5 on all three national trade charts.
For the accompanying album, Marty Kupersmith officially joined J&TA. Says Sandy, "Marty was our guitarist but he had been adding vocal harmony stuff all along."
Over a year passed before they got their next hit: "Only In America." By now Jay Traynor had left to go solo, and had been replaced by David Blatt.
"David came to my house and auditioned with 'Cara, Mia.' It didn't take a genius to say, 'This guy's special.' So we said, 'Okay, you're no longer Dave, now you're Jay.'"
As for "Only In America:" "We wanted to do it the minute we heard it," says Sandy. "Leiber and Stoller played us that song with The Drifters singing it and we went nuts. 'Why didn't you give us that song?' And they said, 'Hey, that's how it works. The Drifters are hot.' And then Atlantic Records (The Drifters label) [rejected it]. That was David Blatt's first record with us."
Even though "America" returned J&TA to the Top 30, Leiber and Stoller were not happy with the new "Jay." "He wasn't soulful," says Sandy. "He was a belter and they just didn't know what do with him, and that's why they let us go find our own producers. We went to Artie Ripp at Kama Sutra, and later we started producing the records."
Another dry year passed after "America," until — as Sandy describes it — the song that almost didn't get recorded. "Jay Black didn't like 'Come A Little Bit Closer' because he didn't think it showed off his voice enough. But Kenny and Marty and Howie and I loved it. It was a Wes Farrell song and we would go up two floors to his office and secretly rehearse and arrange 'Come A Little Bit Closer' without Black, because Jay's part was easy: he just had to sing the words and the melody."
"We were in the studio and Artie says, 'You've got half an hour left. Do you have anything laying around that we can play with?' And we went right in and — bang! — did 'Come A Little Bit Closer.'"
"Closer" returned J&TA to the Top 5 in the fall of 1964 for the first time since "She Cried." A string of solid hits followed: "Let's Lock The Door (And Throw Away The Key)," "Cara, Mia," "Some Enchanted Evening," and "Sunday And Me."
Even with their newfound momentum, UA still had no idea what to do with a their lone Top 40 act. They cycled J&TA through various producers who had them do, in Sandy's words, "horrible songs, like 'Shanghai Noodle Factory.'" Finally, the group cut a deal to produce their own records. But what to do?
"We came up with the idea to take songs that we loved and do them our way. Everybody made a list of songs and we voted. Everybody helped arrange them, and I did the studio work: the recording and the mixing."
The first single — at a time when no radio stations played pre-Beatles "oldies" — was a cover version of The Drifters' "This Magic Moment." It went Top 10 — their first in three-and-a-half years — and J&TA were hot again.
A year later came "Walkin' In The Rain," Sandy's personal favorite. "That record came out perfectly and it was one of Jay Black's best vocals."
Not long after, the group disbanded until 2006 when Sandy, Howie, and Marty (Kenny had his own career going with The Planotones) regained the right to perform as Jay & The Americans and hit the road with Jay #3, Jay Reincke.
Ten years later J&TA are again making a splash. "One of the featured songs in the new Guardians Of The Galaxy Vol. 2 movie is 'Come A Little Bit Closer,'" says Sandy. "This is a big deal because the first movie was a huge success."
When asked about this year's Malt Shop Memories cruise, Sandy is equally enthusiastic. "The ship is magnificent, it's done top flight, the acts are terrific, and the fans know their stuff."
"We can't wait to see them, because most of the people go on this cruise again and again. It will be like finding old friends again, so we'll be seeing a lot of old and some new faces. It will be a great time."
Ed Osborne © 2017