Save the date! Virtual Concert Event This Saturday!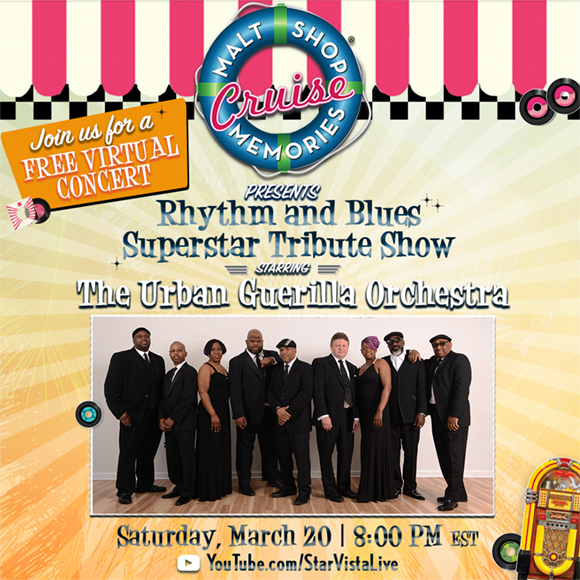 Back in November we celebrated what would have been our 2020 sail date with a virtual event filled with interviews from our Malt Shop artists, clips from past cruises and even some live performances from the artists we are missing so much. And while we're looking forward to sailing away not too far from now, we just can't wait to hear that sweet, live rock ' n' roll and Motown music once again. So, we've planned something special for our Malt Shop Memories cruisers…
This Saturday, March 20th at 8 pm EST we will be hosting A Rhythm and Blues Superstar Tribute Show - a FREE 30-minute virtual concert airing on our YouTube channel. Join us as we enjoy live music once again this time with The Urban Guerilla Orchestra, the premier soul and funk band from Philly that has performed countless energy packed shows on many of our StarVista LIVE cruises. We are so grateful to them for taking the time to create this special event for our Malt Shop Memories Cruisers! Sit back and enjoy the music or get on your feet and dance while they perform the hits from some of your favorite groups and stars including The Temptations, The Four Tops, Sam & Dave, The Stylistics, Aretha Franklin and so many more! You won't want to miss this one-of-a-kind performance so mark your calendars and grab your dancin' shoes.
Make sure to stay tuned to your email and RSVP to our Facebook event page for more details, including a YouTube streaming link coming soon. You can find all the details on our website at MaltShopCruise.com/virtual-concert
We're looking forward to celebrating with you all again onboard this November! In the meantime, we'll see you this Saturday, March 20th at 8pm EST for our virtual concert.