The Scoop Talks to Gary Lewis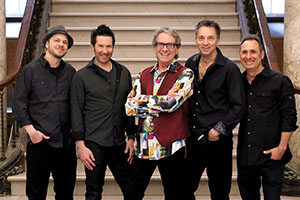 Gary Lewis, center
By the end of the 1960s, Gary Lewis had placed — starting with his debut 45 — eight consecutive singles in the national Top 10: that decade's record. This is his story.
Gary Lewis knew what he didn't want to do: be a show biz comedian like his dad Jerry. When the most famous of the famous gathered at their home, "Everybody just tried to speak louder than the other guy, tell jokes that were funnier than the other person," says Gary. "I knew pretty young that that wasn't for me at all."
So…what did Gary want to do? "When The Beatles came out, I said, 'Oh man, that's it. I've gotta do this!' So I got my drums out of storage where they'd been sitting for a while. I brought them to this theater arts college I was going to (Pasadena City College), and in January 1964 I formed The Playboys from classmates. By December we had 'This Diamond Ring' out."
During The Playboys summer 1964 Disneyland gig, Gary wasn't the front man: he sat behind the drum kit. "Count Basie was a friend of my dad's and Count Basie's drummer, a guy named Sonny Payne, gave my dad a set of his drums, and my dad gave those drums to me," says Gary. He was just five years old.
Another musical great also played a key role in his musical development. "This one friend of my dad's kept coming over and saying, 'Hey kid, come on out here, I want to show you some drum stuff.' It wasn't until I was about twelve years old that I realized this friend was Buddy Rich!"
His mom (Patti Palmer) was another major inspiration and solid supporter of Gary's music endeavors. "She sang with Jimmy Dorsey's orchestra in the '40s, so that's the first music I really liked. Then along came the '50s and this thing called rock 'n' roll. The very first rock 'n' roll record I ever heard was Elvis's 'Hound Dog.' And I said, 'Man! This is cool.'"
Gary went to military school and was in the marching band, in which he played clarinet, yet didn't have any bands in high school. He was essentially out of the pop music scene until that fateful day in 1964 when he was 19.
In the fall of 1964, Gary found himself under the guidance of renowned record producer Snuff Garrett (responsible for hits by Bobby Vee, Gene McDaniels, and Johnny Burnette), who had decided that The Playboys were just the group to launch his career as an independent contractor.
"He came to many rehearsals, he heard us all play, and he saw everybody's personalities and attitudes. When we went into the studio, Snuffy says, 'OK, we're changing things right now. You're going to be singing everything.' And I said, 'Hey, OK.'"
In a flash, Gary Lewis went from drummer and harmony singer to lead vocalist. "Snuffy knew what he wanted, and I wasn't about to argue with him in any way about anything.
And Leon Russell was arranging everything for us. I let them have complete rein."
For their debut, Snuff chose a song co-written by a then-unknown Al Kooper which was originally released on 45 by R&B singer Sammy Ambrose. "It was much slower," says Gary. "I had no idea what ours was going to sound like until I got into the studio and Leon played it on the piano for me."
Like all aspiring artists, Gary remembers vividly the first time he heard "This Diamond Ring" on the radio. "I was driving on Sunset Boulevard and I heard it on KRLA with (deejay) Dick Biondi. Oh, God. I was so pumped up! 'This is what I've been shooting for!' Then I thought, 'I better wait to get really excited.'"
Gary's apprehension turned out to be for naught. "Diamond Ring" bounded onto Billboard magazine's January 16, 1965 Hot 100 chart at #65 with a bullet. From there it leapt to #34, then to #7, and on February 20 it took over the #1 spot from The Righteous Brothers and "You've Lost That Lovin' Feelin':" from debut to #1 in just six weeks. Its Billboard chart-topping peak was also matched in the other major trade magazines Cash Box and Record World.
"We were excited beyond belief then Snuffy stepped in and said, 'You better calm down quickly because do you realize how many one hit artists there in the world? We've got to concentrate on number two and number three.'"
Snuff needn't have worried. "Diamond Ring" was followed by four more Top 5 singles: "Count Me In" (written by in-demand rock/pop pianist Glen D. Hardin), "Save Your Heart For Me" (originally released by Brian Hyland as the B-side of a failed single), "Everybody Loves A Clown" (which Gary started as a birthday gift for his dad), and "She's Just My Style" (the Beach Boys sound was Gary's suggestion).
Still, Gary's hot streak wasn't over yet. "Sure Gonna Miss Her" (for which Snuff recorded two trombones and then sped up the tape so they sounded like trumpets), "Green Grass" (banned in parts of the South because of the supposed lyric references to marijuana), and "My Heart's Symphony" (also written by Hardin) all went Top 10.
With "My Heart's Symphony" climbing the charts in August 1966, Gary got his first draft notice. "Then," he says, "because I had signed contracts already, they gave me until December. I went in on December 28, 1966."
For Gary, his military service was an unexpected blessing. "It was the best thing I could have done, because — coming off all those hot records and a great career — I needed some growing up. I needed to get out into the real world and see how life is and the problems you go through. So when I got my draft notice all I said was, 'Elvis did it; I'm doing it.'"
"The North Koreans took our ship, the USS Pueblo, in (January) 1968 and there was a big military buildup in South Korea. But after I got to South Korea, they resolved the whole thing (in December). I spent all of '68 there."
During his time overseas, Gary had one more Top 10, "Sealed With A Kiss," which he had recorded two days before shipping out to Korea. When he returned to civilian life, the pop music scene had changed dramatically as the album began replacing the single as the dominant format for artistic expression.
Snuff greeted him with unexpected and unwelcome news, and he didn't sugarcoat it. "He just said, 'I'm sorry. There's no more market for you. Bye-bye.' I just turned and walked out and said, 'What the hell just happened?' Oh my God, that was terrible."
"At the time, I didn't know that everybody else was going through that (dramatic shift in pop music). I just knew that I was, and I was almost panicking. What do I do? And then I just figured it and I said, 'To heck with this. I'm not going to play Jimi Hendrix songs just to stay in the business.' It wasn't my style. So, I bought a music store in the San Fernando Valley, and from '72 to '84 that's what I did. I had a real job. Then, in about 1984, things came back around when there was renewed interest in the sixties."
Still, Gary struggled emotionally with being out of the limelight, and attempted to deal with it through "alcohol and stuff." His turnaround began in 1997 when he met the love of his life, Donna, and it culminated with him getting clean and sober in May 2003. "I finally said, 'OK. I'm doing it.' And if I'd have known how hard it was, I don't think I would have done it. It's the hardest thing I ever did. The hardest thing! So, I'm proud of myself."
Today Gary has a great outlook on life. "I don't care about the past and the future. I care about the fans, I care about what I do, and I realize what a gift I have."
As for performing on the upcoming Malt Shop Memories cruise, Gary says, "I love it. I absolutely love it. And I love hanging out. I'll talk to everybody. It's very important to me to give back to the fans because they put me where I am."
- Ed Osborne © 2019