Just Added to Our 2021 Lineup – An Evening with Little Anthony!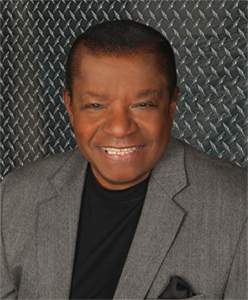 On the Malt Shop Memories Cruise, we are always looking for ways to make our next sailing bigger and better than ever – and what better way to do that than by adding longtime guest favorite Little Anthony to our already stellar lineup! We're so excited to welcome him back onboard for his 6th Malt Shop Cruise. And to make this year's cruise even more unique, this icon will be performing in his own show for An Evening with Little Anthony!
Singing in church at a very young age and joining his first doo-wop group in high school, Little Anthony has become a lifelong performer. Throughout his career, he has appeared and performed on groundbreaking television shows such as "Murray The K", "American Bandstand", and "Soul Train" and was inducted into the Rock and Roll Hall of Fame in 2009, alongside the rest of The Imperials. With hits like "Tears on My Pillow", "I'm On The Outside (Looking In)", "Goin' Out Of My Head", and "Hurt So Bad".
But did you know Anthony is quite a storyteller too? And boy, he has so much to share about his remarkable life and career filled with crazy, funny, free-flowing stories. Now you get to hear from the man himself myself in this unique, intimate show that will give us a chance to hear him reminiscence about his career; weave all his hit songs among these stories behind the scenes; sharing his funny anecdotes and jokes to make for one unforgettable night!
On the 2021 Malt Shop Memories Cruise, Little Anthony will be joining other superstars from the best era in music, including Gladys Knight, The Righteous Brothers, Jay and The Americans, The Miracles, The Duprees, Jay Siegel's Tokens, Charlie Thomas' Drifters, The Tymes, The Coasters, and so many others.
Less than 10 cabins remain available for our 2021 sailing of the Malt Shop Memories Cruise this November. Book your spot now before it's too late, we'd hate for you to miss the greatest rock 'n' roll party at sea!
PLUS – Don't forget, if you are already booked on the 2021 Malt Shop Memories Cruise and book a second cruise from our family of 2022 StarVista LIVE cruises, you will receive 15% off the price of your second cruise cabin!
We can't wait to get back to vacationing under the sun with our favorite music fans all while enjoying the very best in live music. Check out our other incredible offerings below.
The Country Music Cruise – January 15-22, 2022
Soul Train Cruise 2022 – January 22-29, 2022
'70s Rock & Romance Cruise – February 19-26, 2022
Ultimate Disco Cruise – February 26-March 3, 2022
Flower Power Cruise – March 28-April 4, 2022