Al "Lil Fats" Jackson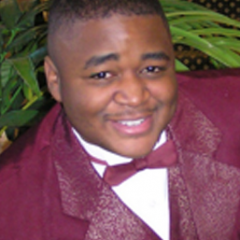 When Al "Lil Fats" Jackson takes the stage, audiences are convinced that the legendary Fats Domino himself has entered the room. The musician and entertainer from south Louisiana is a master of New Orleans rhythm and blues and best known for his stunning tribute to the legendary Fats Domino.
Al grew up listening to classic New Orleans R&B and decided well before kindergarten that Fats Domino was his favorite artist. His grandfather would bring records home from the jukebox at his grandmother's club to play over and over for the young Al, instilling a love of music that would drive him to learn to play several different instruments during his high school years and later become a professional musician.
Jackson's talent and tribute show have not only won audiences over, but Fats himself. The two met in 1997 and became fast friends. Al treasures the relationship, following the advice that Fats has given him over the years and often visiting Fats at his home where the two play piano and share their love for music.
It is fitting that Jackson was selected to perform at Tipitina's in New Orleans during a special ceremony presenting Fats Domino with the Grammy Awards he lost in Hurricane Katrina. He returned to Tipitina's to celebrate Fats' birthday in 2008 and counts those two shows among the best of his career and a great privilege to honor his idol.
Al is a popular guest at the many fairs and festivals in the New Orleans area and casinos throughout Louisiana and Mississippi. He has released three CDs, one nominated for a "Big Easy Award" in 1998.