Elvis Tribute Artists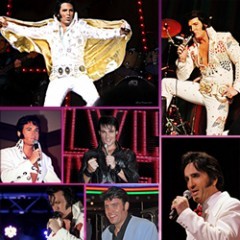 Dwight Icenhower: is not only known for his great personality on and off stage, but also for his amazing voice that has sometimes even been mistaken for Elvis Presley himself! He has performed with many of the original musicians who have worked with Elvis including: The Jordanaires, The Stamps Quartet, The Sweet Inspirations, Joe Gerchio, DJ Fontana and Duke Bardwell (just to name a few). He has taken home over 75 "First Place" awards in contests from all over the world; and in 2015, Dwight Icenhower became the only Elvis Tribute Artist in history to ever win four World Championship "First Place" titles consecutively during Elvis Week, in Memphis TN. Dwight was awarded to coveted Ultimate Elvis Tribute Artist award in 2016 by Elvis Presley Enterprises in Memphis, TN. This amazing journey has been a dream come true to Dwight, and he wishes to continue using his incredible talents to keep the memory of Elvis Presley alive for many more generations to come.
Jay Dupuis: Jay was born on the evening of October 18, 1974 in Baton Rouge, Louisiana. Growing up in a house where his father was a professional musician made it very easy for Jay to follow in his dads footsteps and became a huge fan. Jay would put on performances for his parents, family and friends at social gatherings. When Jay wasn't imitating Elvis, he was doing extensive studio work, surrounded by professional musicians, or on stage performing in front of live audiences. He can't remember a time where he wasn't an Elvis fan. With a determination to be the best he can be, Jay is always looking for new ways in which to provide fans the excitement and the thrill of the music of the artist he pays tribute to. His southern form and captive charm coupled with his uncanny sound and presence will make you feel as if you are watching the King himself, he brings all the electrifying magic of Elvis to the stage. His vocal ability, incredible likeness, and natural charisma have made him one of the foremost, greatest Elvis Tribute Artists of all time. Jay won the prestigious Ultimate Tribute Artist award in Memphis by Elvis Presley Enterprises. Only one Elvis performer per year is awarded this honor after competitions around the world.
Pete Storm is a multi-award winning Elvis Tribute Artist from the United Kingdom and is considered to be one of the top Elvis Tribute Artists in the world. He specializes in the 70s era, holding the titles of 'European Masters Champion,' 'Collingwood Grand Champion' and 'Images of the King' World Champion. In addition to his highly acclaimed Elvis performances, Pete is a country music singer/songwriter who tours throughout the world.
Leo Days became an avid fan of Elvis at the age of three. He grew up listening to Elvis and watching his movies. Leo has been dissecting Elvis' every move and studying every kind of concert footage he can. He has spent a lot of time perfecting Elvis' moves and the mannerisms which is very evident when watching one of Leo's shows. Leo is one of the few Elvis Tribute Artists that can accurately perform all three eras of Elvis. Leo has performed thousands of shows including casinos, theaters, cruise ships, corporate events and festivals throughout the U.S. and internationally. In 2009 Leo was a top 5 finalist at Elvis Presley Enterprise's Ultimate Elvis contest held in Memphis. In the past 6 years Leo has been working with the world renowned tribute show Legends in Concert at their various venues including Las Vegas, Myrtle Beach, SC, Foxwoods Casino, CT, Waikiki, Hawaii, Branson, MO and was part of the first Legends in Concert cast on the Norwegian Epic cruise ship. Leo was also part of the Elvis Lives Tour throughout the United States each year 2010-2015. In 2015 Leo headlined in the show Burn'n Love in Waikiki, HI.
Jay Zanier is a successful entertainer and world class Elvis Tribute Artist who has been performing as Elvis for 25 years.​ He has won numerous contests in Canada and the USA, marking him as one of the top Elvis performers in North America. Jay's dedication has led to him to closely study Elvis' music and concert performances for over two decades, bringing an extraordinary level of authenticity to his shows. Jay is a Canadian champion Elvis tribute artists winning the award of Collingwood Grand Champion.
Anthony Shore never fails to impress and entertain as he performs the songs of Elvis with exceptional quality and utmost respect. His incomparable vocal ability, charismatic stage presence and approachable demeanor make him an instant favorite with audiences. Originally from the UK and fan of Elvis since the tender age of just three years old, Anthony now resides in Minneapolis and works all year-round performing in a variety of venues.
Gino Monopoli hails from Toronto, Canada. He is an internationally acclaimed Elvis Tribute Artist with a large following. His love, admiration, and respect for Elvis shines through in every performance. Gino has performed on all of our Malt Shop Cruises. He is a passenger favorite, many of our cruisers look forward to seeing him return every year. His shows are high energy, electrifying, and they leave the audience wanting more.
EAS Band - John Crenshaw: The EAS Band is the official band of Elvis Presley Enterprises/Graceland since 2006. They are respected throughout the industry as the number one touring tribute band. This high energy band is led by drummer John Crenshaw and is based out of the greater Chicagoland area. EAS consists of a lead guitarist, drummer, bass guitarist, keyboard player, and two female vocalists. A horn section (The Jungle Room Horns) is also available consisting of trumpet, tenor sax/flute, and trombone. Along with the talented musicians and female singers, all band members sing which gives the feeling and excitement of being at an actual Elvis concert. EAS is a professional touring band that performs all over the world backing tribute artists. They are also well versed in entertaining audiences as an opening act or to fill a night of entertainment. The band members have had many years of experience performing music from various genres including country, classic to modern rock, Motown, R& B, easy listening and jazz standards.